NOTE you make use of this info solely at your own risk. Not suitable for navigation. Always check other sources. Conditions can and do change without warning.

Live! Wind speed & direction by Station

Get the latest Live! WIND speed & direction by SMS - plus past wind info
- useful indicator shows what the wind is doing.
SMS the below 2-letter CODE for the STATION to 36010 @R5
(Works for ALL ZA NETWORKS - NO free SMS)

North of CT
S. Peninsula
Boland
City
Ri =RIvermouth P/Eiland
CP =Cape Point
MS =MacaSsar
SG =SiGnal Hill
SU =SUnset Beach Milnerton
KO =KOmmetjie
ST =STrand
CA =CAmps Bay-La Med
KT =Kitebeach Tableview
Wi =WItsands
PG =PrinGle Bay
Country
Bi =Bigbay @ Blouberg
MU =MUizenberg
BE =BEttys Bay
SS =StruiSbaai
ME =MElkbos
HE =Hermanus
LA =LAngebaan
Wind Finder - get Wind info from the 3x WINDIEST stations or get the current Area Wind info
from 3x stations in an Area- click here for AreaSMS Reports
Below data is delayed by 2 hours - use the SMS for the latest info.
Cape Point Lighthouse Wind Report Graphs
Good NEWS 2018-04-04 New Station installed & WORKING. mike@windreport.co.za
Situated on the Cape Point Lighthouse Observation Tower which 250 metres above MSL on top of the cliff. This cliff shields winds from NE to ESE. Always check other stations.


Map of Cape Point Lighthouse - click here for Google maps
History Graphs of Cape Point Lighthouse - click here updated @19h00.

Cape Point - Gate times and Entrance Fees in January 2018.
A Return ticket on the funicular costs R70 (2018-01).

Save with a TMNP My Green Card see http://capepoint.co.za/visitor-info/my-green-card/ - it is available exclusively to residents of Cape Town, costs R147 and provides the holder with 12 free entries (you and max 5 people = 6 entries per day) into any of the Table Mountain National Park's pay points: Cape of Good Hope (Cape Point); Boulders Penguin Colony, Oudekraal and Silvermine, as well as to the braai and picnic areas at Tokai, Newlands and Perdekloof. It offers fantastic value.

Cape Point Cliffs - looking East from Cape of Good Hope, the most SW point on the African continent.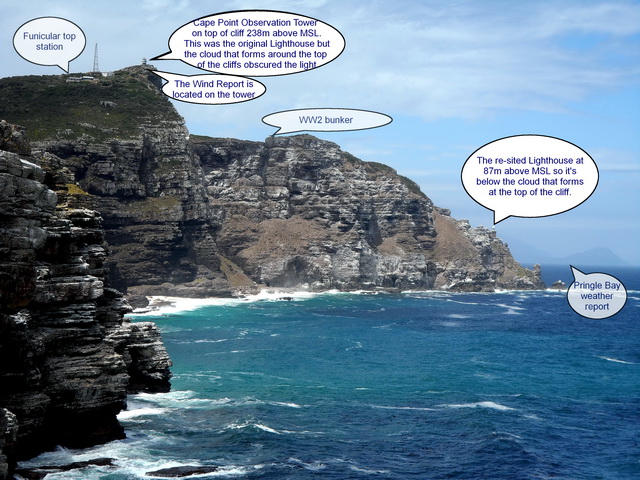 Layout of Cape Point with Lighthouse and Observation tower.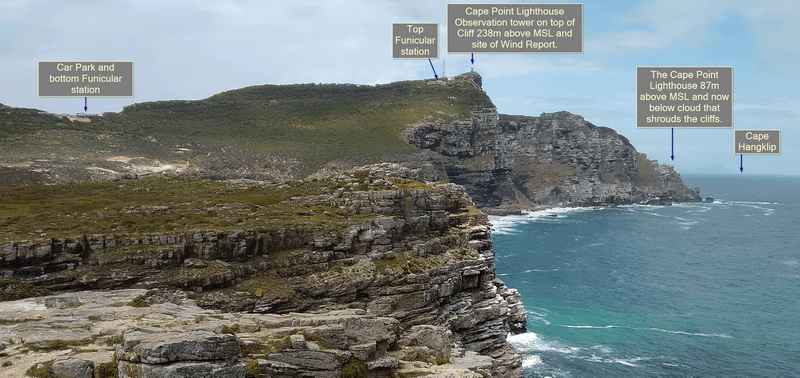 Rooikrans Cliffs - spin for yellowtail.
Cape Of Good Hope popular with tourists.
Cape Of Good Hope - most SW point on the African continent.
That's me Mike the owner on a rare low wind day - not getting blown away.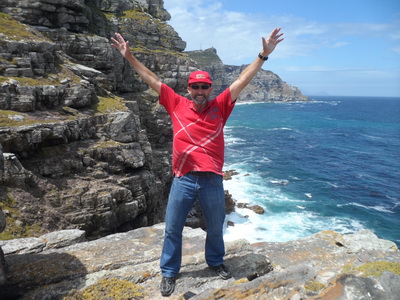 Visitor numbers
in 3 weeks to Cape Point. Approx R14 million in 21 days.
Click here About Us
Email us - info @ windreport .co .za

©2019 Wind Report.
Weather data copyright - permission required for all usage.
Strictly NO unauthorised linking allowed.